Shore Road Rail Bridge
Project Type:
Diamond Drilling, Floor Sawing, Wire Sawing
Corecut were sub-contracted by BAM Nuttall to assist in replacing a 5-span steel encased concrete girder road bridge crossing the main railway lines and platform at Stirling Railway Station.
Pedestrian temporary access walkways were constructed and maintained throughout works, minimising disruption to railway services and adjacent residential properties.
Upon removal of the existing bridge structure, new pre-cast conarches were installed with a subsequent bridge deck.
Work undertaken by Corecut included Floor Saw Cuts, Diamond Drilling, Track Saw Cutting and Wire Saw Cutting.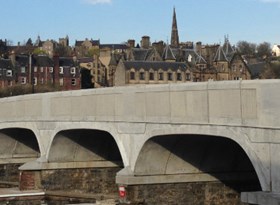 Background
BAM Nuttall were contracted to work on improvements to Shore Road Rail Bridge in Stirling as part of a Network Rail initiative to ensure that clearance requirements were met for the proposed electrification of the railway line.
Shore Road Bridge is a five-span structure consisting of concrete encased longitudinal steel girders and reinforced concrete deck slab, supported on masonry piers and abutments. The structure carries Shore Road Bridge over five spans. The first and second spans from the west cross a car park, and spans 3 to 5 each cross double track railway.
The project involved replacing the existing superstructure with non-standard precast lightweight concrete conarch units with continuous in-situ concrete slabs over the piers. These new units are supported by precast concrete cill beams on the existing substructures. The in-situ concrete slabs span between the conarch units and provide continuity over the pier supports.
The work was completed as part of a £650m electrification programme taking place across the Central Belt, to take Scotland's rail system into the next generation.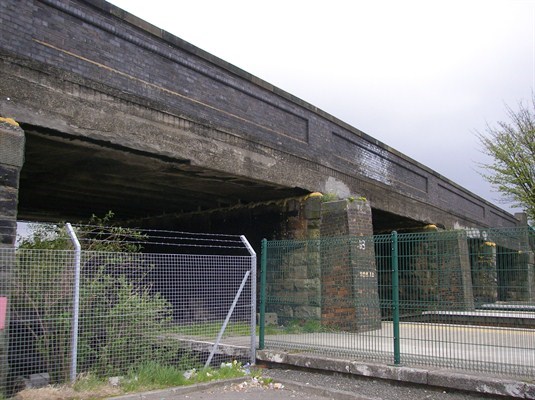 BAM Nuttall's work involved the dismantling and removal of bridge deck spans, along with the reduction of bridge piers and abutment walls. Upon removal of the existing structure, new pre-cast conarches were installed with a subsequent bridge deck. Pedestrian temporary access walkways were constructed and maintained throughout works to help minimise disruption for local residents.
Corecut assisted with the provision of Diamond Drilling, Floor Sawing, Track Sawing, Wire Sawing and Robotic Demolition services.
The Project
Corecut assisted BAM Nuttall through the provision of specially trained operatives complete with the necessary Diamond Drilling, Floor Sawing, Wall Sawing and Robolition equipment. This expertise ensured successful demolition of the existing bridge deck and reinstatement of the new structure during pre-possession and nightshift possession works.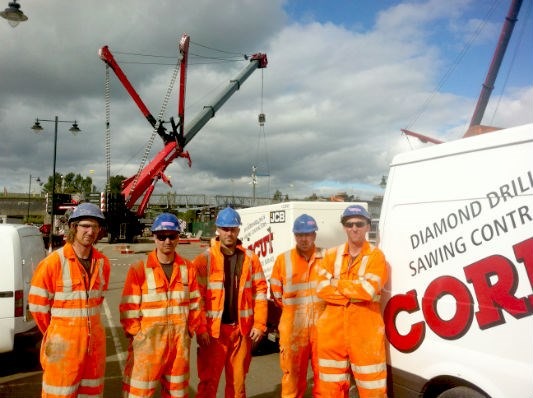 Due to the potential impact on both the rail services and local residents, working durations were restricted. The team were required to carry out pre-demolition work during the main 54 hour line possession, meaning a tight schedule. Time restrictions were overcome through advanced equipment setup and part completion of work pre-possession where possible.
The overall Bridge project was completed six weeks ahead of schedule, in part thanks to the efficiency of the work carried out by Corecut.
Pre-possession works included partial Floor Saw Cuts of 90% bridge depth across selected spans, Diamond Drilling lifting holes to allow safe dismantling of the bridge deck, and Track Saw & Wire Saw Cutting to selected piers and East abutment.
Works completed during the possession period included final Floor Saw cuts to full depth on the bridge deck, Diamond Drilling of remaining lifting holes, Wire Saw cutting remaining piers and Track Saw Cutting of final abutment walls. BAM Nuttall removed these cut sections using a 750 ton crane, before the Corecut team drilled dowel bar holes to allow for the installation of new cill units.
The project was fully completed under the allocated schedule and budget, and performance on this project has led to Corecut working alongside BAM Nuttall on another technically demanding railway contract.
Tony McDade, Corecut Contracts Supervisor, said: "It was a big effort over the duration of the project to ensure successful completion of works prior to and during the disruptive possession at Shore Road. It has been a great team effort by all involved at Corecut, showing once again that we are able to deliver challenging works on time."