Queensferry Crossing
Project Type:
Concrete Cutting, Diamond Drilling, Ferroscan Concrete Surveying, Fire Stopping, Grouting and Structural Repairs, Water Jetting
The Queensferry Crossing is a globally unique project, forming the centrepiece of a major £1.35bn upgrade to the key cross-Forth transport corridor, near to Edinburgh – the largest Scottish infrastructure project in a generation
The 2.7km long structure will be the longest three-tower, cable-stayed bridge in the world and also by far the largest to feature cables that cross mid-span – a design which benefits from extra strength and rigidity
The bridge has been built by Forth Crossing Bridge Constructors (FCBC), a consortium of Hochtief, Dragados, American Bridge and Morrison Construction, under a £790m contract
Corecut was approached in early 2011 by some existing contacts who had previous experience of the extensive range of services that we offer and Corecut commenced works on site in December 2011, before completing its contributions in August 2017
The company provided crucial expertise, equipment and a comprehensive portfolio of skills that covered nearly all of the services that it offers and demonstrates the benefits of the multi-skilled business model that it operates
Core Cut Ltd worked more than 2,000 Man Days on the project over a 6 year period with no lost time accidents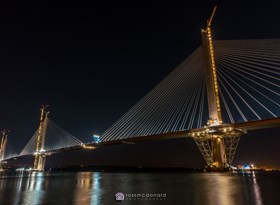 Background
Proposals for a second Forth road crossing were first put forward in the 1990s, but it was not until the discovery of structural issues with the Forth Road Bridge in 2005 that plans were decisively progressed. The decision to proceed with a replacement bridge was taken at the end of 2007.
The record-breaking Queensferry Crossing is designed to carry the M90 motorway across the Firth of Forth between Lothian at South Queensferry and Fife at North Queensferry. It runs alongside the Forth Rail Bridge and Forth Road Bridge – structures Core Cut Ltd have extensive experience on, and will allow the latter to become dedicated to public transport use, walking and cycling.
A total of 149 segments of bridge deck, each of which stretch to 12 metres long and 40 metres wide, were constructed in China and Spain, then delivered to the Firth of Forth by sea in October 2013.
The towers reached 160 metres in height in August 2015, already making it the UK's tallest bridge. In fact, when complete, the structure will be 207 metres above high tide – equivalent to approximately 48 London buses stacked on top of each other and 50 metres (25%) higher than the existing Forth Road Bridge.
The new bridge benefits from windshielding that should almost eliminate the need for closures during frequent high winds.
Furthermore, cables can be replaced with more ease than on the existing Forth Road Bridge – it can be done as part of normal maintenance works without closing the bridge.
North and south of the bridge, major motorway upgrades have taken place, including the first ever use in Scotland of variable mandatory speed limits to smooth traffic congestion via an intelligent Transport System.
The construction of the Queensferry Crossing has represented an incredible feat of civil engineering, undertaken in challenging, often hostile conditions, and has involved:
The pouring of 150,000 tonnes of concrete – nearly the same amount used for the entire London Olympic Park and Athletes Village
23,000 miles of cabling – laid out, this would very nearly stretch around the entire planet Earth
7,000 tonnes of combined steel for the North and South viaducts – enough to make another 23 of the Falkirk Kelpies
Approximately 10 million man hours worked
The Project
In helping to deliver the construction of the Queensferry Crossing across a six year period, Corecut undertook a comprehensive portfolio of services that spanned almost its entire range of innovative solutions.
These services included:
Diamond Drilling of test cores into grout piles for integrity testing at the start of the construction phase.
Intumescent Painting, Boarding and Firestopping to the precast shed where deck sections are constructed
Drilling and Installation of thousands of resin anchors and dowel bars across the project
Controlled Demolition by Non-Percussive Hydraulic Bursting of temporary protective structures over the Forties Pipeline following completion of works by FCBC in these areas
Hydrodemolition of numerous reinforced concrete structures to facilitate modifications to the existing approach structures as well as removal of material on the main bridge towers and foundations.
High Pressure Water Jetting to clear concrete blockages from cable ducts
Floorsawing to existing approach roads to facilitate integration of the new road network
Wet Abrasive Blasting using our unique FAST BLAST ®of precast concrete deck sections to provide a keyed surface prior to construction of the in-situ bridge units
Underwater Wiresaw cutting in conjunction with divers to remove redundant temporary Tower Crane Piles from the seabed
Underwater Drilling in conjunction with divers of holes into Tower bases
Hire and Sales of equipment & consumables
Drilling and Grouting to install monitoring equipment designed to measure movement within the main towers
Drilling and Installation of anchors to secure telescopic cranes to the top of the North, Central and South Towers
Wallsaw & Wiresaw Cutting to facilitate the demolition of redundant rail structures over the line that formerly serviced Rosyth Naval Base
Diamond Drilling of fixing to mount the Official Commemorative Date Plaque to North Abutment
Emergency Controlled Demolition of failed sections of concrete using Robolition Equipment after long term closure of the existing Forth Road Bridge meant concrete trucks couldn't deliver in time
Ferroscan Surveys to locate reinforcement to assist in design detailing on the Main Towers
Corecut worked more than 2,000 Man Days on the project over a 6 year period with no lost time accidents
Corecut Managing Director, Finlay Crocker said: "The fast track construction of the Queensferry Crossing represented a significant challenge for our team, one that demanded an immense effort and the deployment of our full spectrum of capabilities across an extensive six-year period.
"We believe that our contribution was a significant and vital one, with the results being testament to the quality, skill and work ethic of all those involved, culminating in what will undoubtedly become one of the world's great bridges and will be viewed within our company as being one of our largest and longest projects.
"Quality, precision, and continuous investment and innovation sit at the heart of every stage of our operation and represent fundamental parts of our culture as we look to deliver the best possible solutions to our clients."