100 Days in Queen Street Tunnel
Project Type:
Concrete Cutting, Controlled Demolition by Robolition, Diamond Drilling, Floor Sawing, Hydraulic Bursting, Wall Sawing
Summary
Queen Street tunnel was closed for major engineering work to renew 1,800m of existing concrete slab track, which carries the rails through the 918m tunnel.
Corecut were sub-contracted by Story Contracting to assist in the slab track renewal phase of the project, which involved the removal of 10,000 tonnes of existing concrete slab.
These were the biggest engineering works undertaken on the Edinburgh to Glasgow, via Falkirk High, line since it was originally built in 1842.
Corecut provided crucial expertise, equipment and skills in Diamond Drilling, Wall Sawing, and Floor Sawing.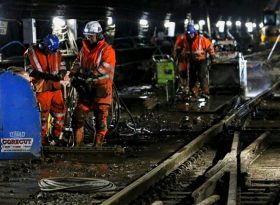 Background
Glasgow Queen Street is the third busiest train station in Scotland, behind Glasgow Central and Edinburgh Waverley, with almost 17 million 'entries and exits' between April 2014 and March 2015 (source).
For 20 weeks between March and August 2016, the top level of Glasgow Queen Street Station was effectively closed to allow for major engineering works to take place. This consisted mainly of work to renew 1,800m of concrete slab track, which carries the rails through the Queen Street tunnel.
This work was completed as part of a wider project, including an overall station redevelopment, being undertaken with the £742m Edinburgh Glasgow Improvement Programme. Incredibly, this is the largest piece of engineering work undertaken on the Edinburgh – Falkirk High – Glasgow railway since it was built in 1842 and involves:
140 days of continuous round the clock working
More than 150 staff every day
More than 500,000 man hours
Removal of 10,000 tonnes of existing concrete slab
Installation of 4,000m of new rails
The existing concrete track slab within the tunnel has been in place for 40 years and, due to the impact of continuous use and the effects of water infiltration, is starting to degrade considerably. The £60m upgrade will allow faster, longer trains to operate from the station.
Completing this work now means that existing class 380 electric trains will be able to operate at optimum performance when they start running in December 2016. Furthermore, new Hitachi electric trains will start operating on the Edinburgh – Glasgow via Falkirk High route in autumn 2017. Since the line through the tunnel will be electrified, this heightens the need for the work since faster speeds achieved by electric trains are likely to accelerate the deterioration of the slab. The installations of this new slab which meets modern specifications should last 60 years without any major intervention.
In Summer 2014, Corecut conducted trials at Carey Hill Quarry to demonstrate that our techniques would be appropriate for this project. We also completed on-site tests on Christmas Day.
Corecut were sub-contracted by Story Contracting Ltd to assist with the slab track renewal phase of the project. We won out over a number of other contractors in a highly competitive tender process. We were involved in the planning of the project nearly two years prior to undertaking the actual work, including on and off-site trials. Our work took place across a large portion of the 20 week project, between 20/03/16 and 01/07/16. Our work on the project was undertaken in two phases, pre-blockade (20 March – 8 April) and main blockade (11 April – 1 July) totalling nearly 900 man days on site without a lost time incident.
Pre-Blockade Works consisted of the Diamond Drilling of almost 8,500 112mm diameter x 500mm deep holes to facilitate the use of Hydraulic Bursting equipment to crack the slab track following 2,750 metres of Tracksaw Cutting to both the up line and down line to divorce the concrete slab track from the walls.
The second phase commenced on 11 April and saw main blockade works undertaken, including Longitudinal Sawcuts to divorce the concrete slab track from the tunnel walls and
divide it into 2 halves. Hydraulic Bursting – one of the safest and most efficient methods of removing reinforced or mass concrete, brickwork, or natural stone – was also carried out. Our remote controlled Robolition demolition equipment was used to remove 10,000 tonnes of existing concrete, reducing it to manageable sections for removal by train.
Main Blockade Works consisted of Floor Sawcutting and Transverse Sawcutting of Ladder Beam Sections. We then conducted the Hydraulic Busting & Breaking Out to accommodate the replacement of slab track, and completed the drilling of dowel holes through the new structural slab and into the rock below utilising the Robolition 260 fitted with a Hydraulic Rock Drill. Upon installation of the new concrete slab, Corecut drilled 3,500 holes to a depth of up to three metres, helping to anchor concrete to bedrock.
With a contract value of £1.25million, this was the largest Diamond Drilling project ever in Scotland and we were delighted to be involved. In the end, we completed our portion of the project six days ahead of schedule.
Corecut Managing Director, Finlay Crocker said: "The Queen Street tunnel represented a significant challenge for our team, which worked diligently on a 24/7 basis in difficult conditions across almost 100 days from late March to late June.
"With the difficult environment and tight deadline in mind, it is particularly pleasing to us that we were able to complete the work safely, within budget, and nearly a week ahead of schedule, which is testament to the quality and work ethic of those involved.
"We believe that, in doing so, we provided a major boost to the project's immediate progress in the run-up to the 8 August opening.
"We hope that our contribution to Queen Street lays the foundations for wider success, both for those still engaged on the project, and for the station's long-term future.
"Quality, precision, and continuous innovation are at the heart of every stage of our operation and represent fundamental parts of our culture as we look to deliver the best possible solutions."
The work was conducted on a 24/7 basis by rotating teams, ensuring no downtime and this commitment led to us delivering 6 days ahead of schedule.
Location Scheme Project Manager, Eddie Esdale of Story Contracting said: "It was a fantastic effort throughout by everyone involved at Corecut.
"A very innovative solution was proposed and delivered, and without it, the project may not have progressed as smoothly as it did. A professional approach from all operatives on site ensured the safe delivery of the works ahead of programme."