Corejet make a splash with new Hydrodemolition equipment
As one of the UK's top Hydrodemolition contractors, Corejet aim to stay at the forefront of the latest industry developments and are constantly researching the latest technology to help us deliver a better service to our clients. Through significant investment in innovative equipment, our Hydrodemolition capabilities have been significantly enhanced.
The centrepiece of Corejet's recent acquisitions is the AQUA CUTTER 410A – the world's smallest standard manufactured Hydrodemolition robot. With its small stature and light weight, this tool can operate in confined, difficult-to-reach spaces. The hydraulic and articulated arm, with two rotating joints and three extensions, can reach as far as 3 m (9,8 ft.) making it easy to access horizontal, vertical and overhead areas.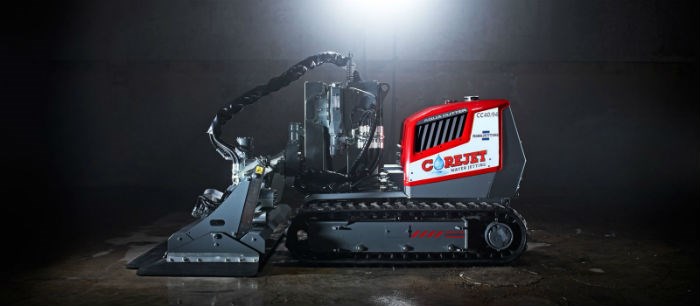 The AQUA CUTTER 410A provides great versatility as it can be operated in potentially hazardous situations by wireless remote control at a safe distance should the need arise. There are a wide range of nozzles available which can meet every variety of Hydrodemolition requirements and the oscillation stroke can be changed quickly to allow the right cut in the right situation.
In addition to the cutter, Corejet have purchased a number of peripherals which will allow the AQUA CUTTER 410A to be operated in even more environments. The reach has been extended with the purchase of an extension kit and AQUA SPINE and AQUA FRAME systems allow help the tool to adapt to even the most complex Hydrodemolition assignments.
To help with preparation before the tool is deployed a Rotolance has also been purchased which can help clean or remove pain rust and rubber without creating vibrations or dust pollution.
Ewan Crocker, Corecut Operations Director said: "We always aim provide the most innovative solutions to get work done in the safest, most effective and quickest ways possible. The purchase of this new Hydrodemolition equipment is an exciting development and adds to our versatility. It's something our workforce has enjoyed getting their hands on and they've received the highest standards of training in order to utilise this kit to the maximum benefit for our clients."
Click to find out more about Corejet's range of services, or call 01506 854 710 to speak to one of our operatives.