Corecut Leads the Industry in Health & Safety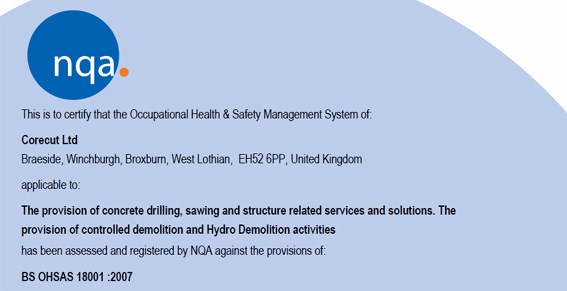 For over 35 years health and safety has been at the heart of Corecut's business, and it is central to every project we undertake. We are delighted to announce that this has been further validated with the award of the OHSAS 18001 certificate of registration from global certification body NQA. This award confirms that our practices put safety first and adhere to the strict conditions of the International Occupational Health and Safety Management Standard set by NQA.
This certificate was awarded across the full spectrum of our services including Diamond Drilling, Concrete Sawing, Controlled Demolition and Hydrodemolition, and is testament to the focus we place on providing the best possible training for our staff.
Our commitment to health and safety is instilled in every member of our workforce from our dedicated onsite training centre, renowned throughout the country. As well as our own staff, many of the other leading contractors across the UK have their employees trained at our centre, such is its reputation.
With this award, Corecut become the only specialist Diamond Drilling contractors in the UK to hold the accreditation, further setting us ahead of other companies in the industry. To achieve the award, a strict audit was undertaken over a prolonged period of time, ensuring that Corecut exceeded the rigorous requirements set by NQA.
Corecut Managing Director, Finlay Crocker said: "It confirms what Corecut and our clients already know – that the company exceeds the highest standards for health and safety on every project. Everyone at Corecut has worked tirelessly in order to achieve this goal, and while we've always had these standards at the core of everything we do, it's encouraging to see it made official."