Corecut Invest In the UK's Largest Floor Saw
Corecut is a well-established, leading name in the concrete cutting industry, with a highly skilled team committed to delivering the highest standard of work for customers. Corecut's ongoing investment in the latest technology and equipment allow the team to continually improve services for customers.
The latest investment has seen Corecut advance its concrete cutting services with the acquisition of the CC110 Floor Saw.
On delivery of the new machinery, Corecut managing director, Finlay Crocker said, "Our recent investment in the CC110 Floor Saw gives Corecut a unique and improved service offering for our customers as we're currently the only company in Scotland to invest in this equipment."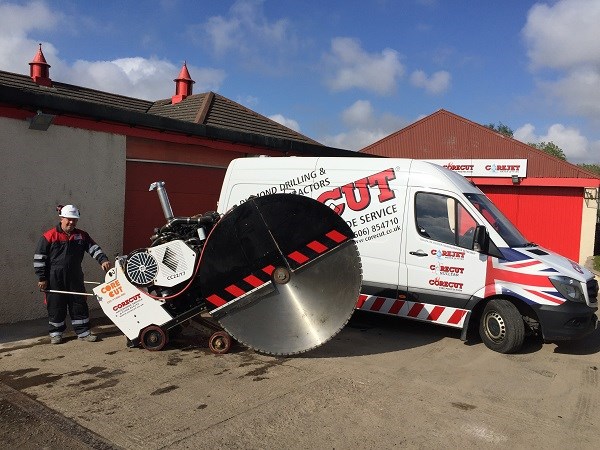 What are the benefits of the new CC110 Floor Saw?
The key features of the CC110 Floor Saw include;
72" blade with a maximum cutting depth of 32"
Powerful 110 HP Cummins Diesel engine
Charge air cooled engine (cool air means power)
Complete skid plate that protects the belt and blade shaft bearings
2-1/2" diameter blade shaft bearings
Cleanest running diesel engine in any large walk behind saw
Outboard bearing support
6 bolt blade collars with safety hub
Adjustable diamond blade
Put simply, the CC110 Floor Saw guarantees deep concrete sawing made easy.
How will the new CC110 Floor Saw benefit your project?
The floor sawing services from Corecut produce clean edges and are perfect for cutting external horizontal surfaces to include roads, pavements and airport runways.
The acquisition of the new C110 Floor Saw means our fully trained and CSCS accredited team, with over 35 years' experience, will be able to cut to a deeper level quickly and accurately for your project.
Being the only company in Scotland to invest in the C110 Floor Saw means Corecut is in a unique position to offer the improved floor sawing service.
If you would like any more information on the concrete floor saw services offered by Corecut, please call the team on 0845 5199 330. Or get a free quote for your project here.