Corecut Improve Controlled Demolition Services With The New Robolition 110
The Corecut team are industry leaders in remote controlled robotic demolition with a commitment to continually improving services with ongoing investment in the latest technology. The latest investment from Corecut has seen our team acquire the new Robolition 110 demolition machinery.
Stronger, smarter and tougher, the Robolition 110 is 15% more powerful than its predecessor the Robolition 100 and 50% more effective than the Robolition 90.
Finlay Crocker, managing director at Corecut, said "Corecut intend to remain a front runner in the construction industry, and our most recent investment in the Robolition 110 is testament to our commitment to delivering the very best service for our customers."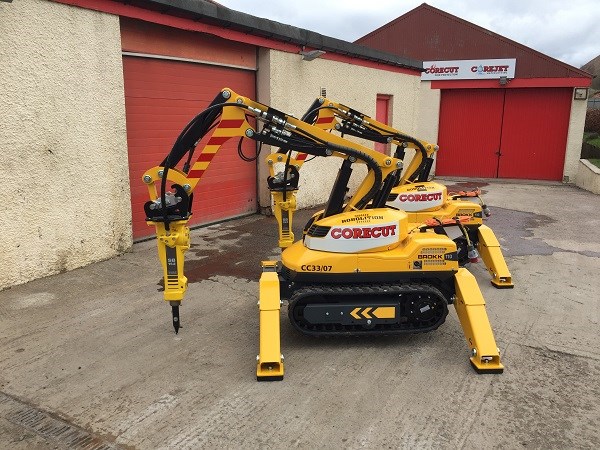 What are the benefits of the Robolition 110?
Along with the increased power, some of the additional benefits of the new Robolition 110 are:
Versatility
Its versatility comes from keeping the same industry-leading compact size, in spite of its reach and power. This machine folds up into a compact form which can climb stairs, fit in a lift and be transported on a small truck or trailer.
Robolition SmartPower
A new intelligent and hardened electrical system means this piece of equipment is built to face almost anything. This system incorporates hardened components and fewer moving parts than its predecessor. It operates on both 16 and 32 amp and has fully covered and protected components.
Improved durability
The Robolition 110 features upgraded durability, including hardened parts, LED headlight protection, reinforced corners and resistance to dirt and scratches.
What are the benefits for your project?
If you have a project in a tight space, Corecut has the team for you. This new generation of demolition robots combines extreme power with a 360 degree work radius, allowing Corecut to tackle projects in tight spaces in residential, commercial and industrial environments.
The team at Corecut are a fully equipped mobile workforce covering the UK and Europe. Each member of the team is a fully trained CSCS accredited operator so you can be confident your project is carried out by industry professionals using the very best demolition equipment.
Furthermore, the compact size of the Robolition 110 means the machinery can be transported to your project site with ease.
To speak to a member of the team for more information on any of the Robolition services offered by Corecut, call 0845 519 9930. Alternatively, get a free quote for your project today, by clicking here.