Corecut assist with the demolition of Cockenzie Power Station Chimneys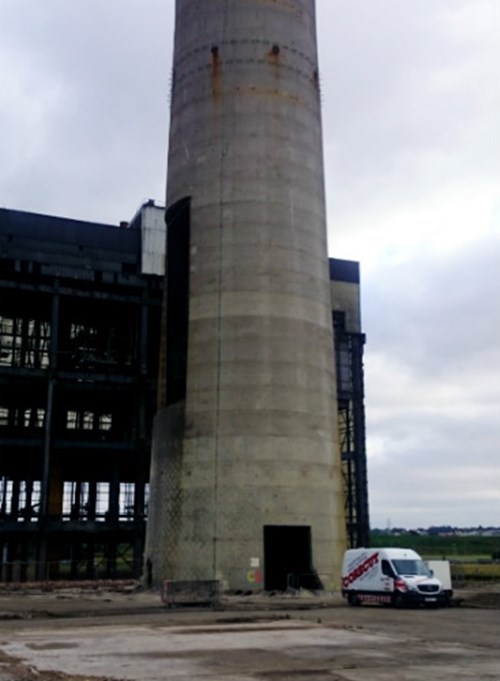 Corecut were employed to assist with the demolition of the chimneys at Cockenzie Power Station, formerly one of the most recognisable features of the East Lothian Skyline. Thousands gathered to see the demolition with many forming a flotilla in the Firth of Forth and many more looking on from the area around Portobello Beach.
Cockenzie Power Station was designed by RMJM in 1959, the renowned architectural firm of Sir Robert Matthew, and was opened in 1967 in order to convert coal into electricity. In recent years, the technology was no longer fit to meet modern day carbon emissions targets and was finally decommissioned in March 2013. Scottish Power has said that the station generated 150 terawatt hours of electricity throughout its lifetime.
Though many considered the building to be iconic, the nature of the work carried out within the station meant that it was not suitable to be repurposed. Therefore the decision was taken to destroy the structures of the turbine hall and the 149-metre tall chimney stacks.
Corecut played a vital role in the demolition of the chimneys, utilising Diamond Wire Sawing technology in order to weaken the chimney bases in two different places on each stack to assist in the final demolition. Corecut's expert team can achieve cutting rates of up to 1 square meter per hour and produce clean circular openings of up to 2,500mm.
Diamond Wire Sawing originate in the quarrying trade but is now deployed in situations for the removal of heavily reinforced concrete where there may be limited access but the speed and depth of the cut are vital.
Corecut Operations Director, Ewan Crocker said, "It shows the growing reputation of Corecut throughout Scotland that we were asked to work on such a high profile project. Our specialist knowledge of Wire Sawing was vital to the whole operation and ensured a successful and safe demolition."