Corecut Knowhow plays essential part of team that wins ICE Constructability Award
Corecut Ltd are proud to have been the Specialist Concrete Cutting Contractor that as part of a team led by Graham Construction carried out the deconstruction of the Churchill Way Flyovers in the centre of Liverpool and as a result of the project success recently won the Constructability Award at the ICE North West Civil Engineering Awards 2020.

This award focused on the collaborative approach to temporary works and buildability, recognising excellence and imaginative concepts in civil engineering practice across the North West Region.

Corecut Ltd were contracted to specialist demolition contractor S Evans and Sons as part of the project team commissioned by Liverpool City Council.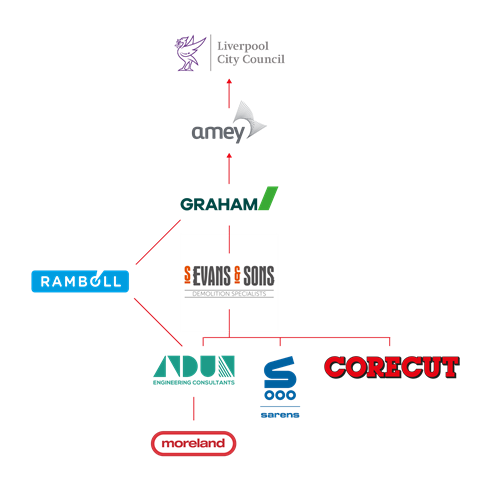 The Process
As a result of the close proximity of many live buildings and structures, the team adopted an innovative approach to combining temporary and permanent works and specialist cutting techniques on site to deliver the project with minimal disruption to the public.
As part of the Liverpool City Centre Connectivity Scheme the flyovers removed were each up to 240m long and with individual cut spans varying from 14m - 33m in length and weighing in between 300 and 600 tonnes.
Using multiple Wire Saw systems Corecut Ltd cut the structure into sections of predetermined lengths which were then moved by Sarens using SPMTs to a central processing compound. A SAR Lift was then used to lower the spans onto steel grillages before Corecut personnel utilised a combination of Wire Sawing, Floor Sawing and Wall Sawing techniques to size reduce the sections further to facilitate their removal from site.
Every aspect was carefully considered so there were limited road closures, with teams working on a 24-hour cycle throughout the project so that any noise generating operations where undertaken during the day, with the lifting and moving being carried out during the evening or at night time to minimise disruption to local residents.
Deconstruction of the Churchill Way Flyovers in Liverpool

Careful Dismantling of 2 Flyover Structures of approx 240 meters.

Completed end of 2019

2020 ICE Award Winner
Outcome
As a result of the collaborative team approach by all involved, this complex and extremely challenging project was delivered to the client Safely, On time and On Budget.